If you were to die tomorrow, what would you want to do today?
For the people in Ding village this wasn't just a hypothetical question, this was their reality. The fevered, as they lived in the village school, striving to make their last days full of happiness. We see many of them looking for ways to fulfil their lifelong desires and to tie up loose ends. We see Ma Xianglin holding on for a few more days by fulfilling his desire to put on a concert for the entire village. We also see Li Sanren looking around desperately for his precious village seal that was taken away from him in his last days. The fevered went running around to find their coffins, and when they did, they were so happy they almost forgot about the fever that had been inflicted upon them.
'A lot of us have died already. I cheat death every day … what do I care if I get caught cheating with someone else's wife?'
From Severance to The Plague, getting sick incapacitates people, prevents them from living their life to the fullest. But in Dream of Ding Village, it also sets people free. It gives freedom from the future. When Ding Liang and LingLing are isolated from their families, they are free to be with each other and enjoy themselves free of societal expectations. Ding Liang, even on being caught with LingLing, doesn't seem to be ashamed of himself. Ding Yuijin and Jia Genzhu are aggressive in claiming authority over the village for themselves and living their best life. In the text, as leadership moves from Grandpa to the two of them, so the town seems to free itself of the future. People stop putting up scrolls to remember the dead. They take away everything from the school, meant for future generations, and use it for themselves. For want of more coffins and exquisite furniture, all the trees disappear overnight. The town truly lives like there would be no tomorrow. We want to bring up a relevant question here from an old conveners' post: Do people have the right to neglect the future if they know they will not be in it?
On the flipside, however, there are horrors and realities that cannot be escaped. The act of all the fevered in Ding Village moving to Grandpa's (quarantine) school is reminiscent of the "escapes" we have seen in our earlier readings. For example, the Brigata in Boccaccio's Decameron who live in a plague-free utopia outside the infested city, and the survivors in Severance living inside a mall to start a new society after Shen Fever has wiped out the rest of the world. While these characters are the survivors of their plagues, the fevered school residents are actually the ones who have a guaranteed death coming for them soon. However, as they all try to make a fresh start with their "escapes", eventually all of them are plagued by their pasts and human desires. So while the school-life for the fevered is described as "paradise" in its initial days, the illusion breaks with occurrence of theft, greed, and power struggles – all caused due to the sick wanting to connect to their past lives and desires. In Severance, Bob's desire to live in his own childhood haunt also leads to his death and disbanding of the survivor group. This begs the question that with the plague or AIDS or COVID-19 destroying our normalcy, can we ever forget our past lives and desires to make a fresh start? Or is it just a utopian ideal, ready to be shattered at one reminder of the past? Will you still take care of sanitizing your hands after going out as diligently as now if we told you that COVID-19 is over?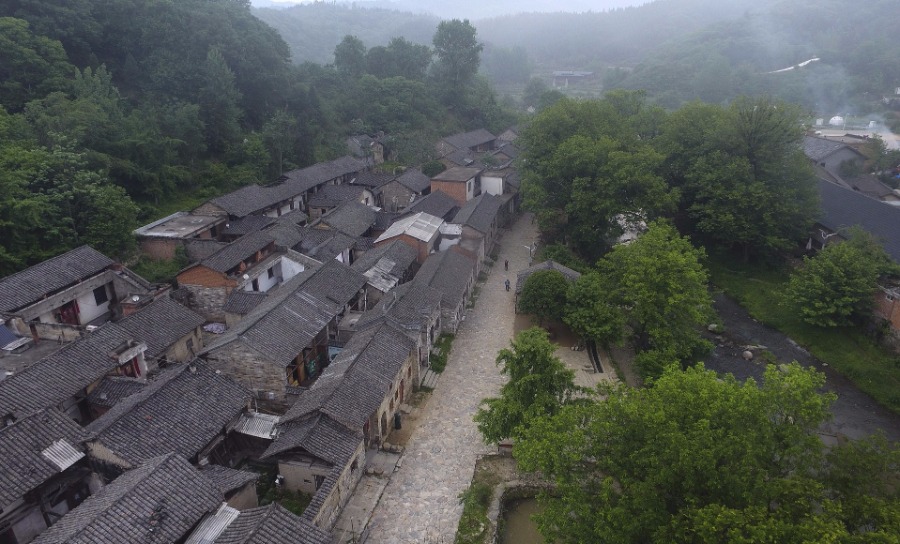 Let's take a step back and think about an important detail in the frame of the story that deserves some reflection. The narrator of the novel is a 12-year-old boy, the son of a blood kingpin. He seems to be the only dead character in the novel who did not die of the fever. Because of it, but not from it. He is a ghost, haunted by his father's sins. Is his purpose now to narrate the horrors that his family brought about? What does his role, and the events that happen to Grandpa due to his sons, say about family? Are we bound to our families no matter how far apart we try to be?
While we are looking at the frame, it is meaningful to delve deeper into the three dreams in Volume 1. It refers to the story of Joseph in Genesis of the bible. Joseph, who was found to be an interpreter of dreams, and was summoned by the Pharaoh to interpret his disturbing dreams. Joseph informs the Pharaoh that his dreams imply that his kingdom would have a long period of prosperity followed by a period of famine and destruction.
Ding Village seems to have followed in the footsteps of Egypt. They have a period of prosperity brought on by the selling blood followed by a devastating period of death. At first we were unsure of the purpose of these dreams appearing in the first volume but by reading more and more we can see the similarities between the two communities. The Cupbearer's Dream comes to the forefront when Grandma comperes the blood bags to plump red grapes:
"Throughout the village, blood-filled plastic tubing hung like vines, and bottles of plasma like plump red grapes."
Grandpa, like Pharaoh, has the remarkable ability to foresee reality in his dreams. However, he was not able to stop many of the tragedies that fell upon the village. If only he could dream what could have been rather than what was.
The Dream of Ding Village is one that many can relate to. It is a dream to rise above, and to fulfil the heart's desires. Amongst the chaos and tragedy, however, Ding Village chronicles a collapse of integrity, respect, honour, and the value of a human life.