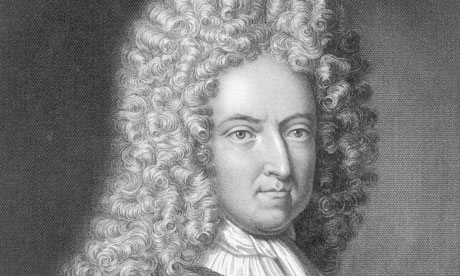 In class today I mentioned two approaches to the history of the novel that may help us think with greater precision about Defoe's novel as a novel.
The one I got to before time was up comes from Benjamin Franklin's Autobiography, which he began writing in 1771 and was first published in 1790. In the passage I read from, Franklin, who spent his formative years setting type and writing for newspapers, recalls the emergence of a new style of prose narrative around the turn of the eighteenth century. He begins with a chance encounter, during his initial voyage from Boston to Philadelphia, with John Bunyan's Pilgrim's Progress, a book he knew well from his youth:
In crossing the bay, we met with a squall that tore our rotten sails to pieces, prevented our getting into the Kill,[25]and drove us upon Long Island. In our way, a drunken Dutchman, who was a passenger too, fell overboard; when he was sinking, I reached through the water to his shock pate, and drew him up, so that we got him in again. His ducking sobered him a little, and he went to sleep, taking first out of his pocket a book, which he desir'd I would dry for him. It proved to be my old favorite author, Bunyan's Pilgrim's Progress, in Dutch, finely printed on good paper, with copper cuts, a dress better than I had ever seen it wear in its own language. I have since found that it has been translated into most of the languages of Europe, and suppose it has been more generally read than any other book, except perhaps the Bible. Honest John was the first that I know of who mix'd narration and dialogue; a method of writing very engaging to the reader, who in the most interesting parts finds himself, as it were, brought into the company and present at the discourse. De Foe in his Cruso, his Moll Flanders, Religious Courtship, Family Instructor, and other pieces, has imitated it with success; and Richardson[26] has done the same in his Pamela, etc.
[Footnote numbers take you to the gutenberg.org etext of Franklin's book.]
There's more to be said here about what this new mode of writing represented to Franklin, but at minimum we should note that he associates it with popularity and with aesthetic experience — with a kind of voyeuristic pleasure, as if we're allowed to eavesdrop on characters. Certainly Defoe got high marks from contemporaries for excitement, in spite of the fact that some of us found his account of the plague a little tiresome between the zombie episodes.
The second version of the history of the novel I wanted to bring to your attention is perhaps best represented by the classic 1957 text by Ian Watt, The Rise of the Novel, which places Defoe, Richardson, and to a lesser extent Fielding at the center of the history of the English novel. Watt's book was an important departure from dominant modes of criticism in the middle of the twentieth century in his interest in plotting the relationship between society and social institutions and the production of literary works. (At that point, the dominant New Criticism advocated reading literary works as enclosed worlds, separate from the real world of authors and readers.) Watt offered an enduring analysis of eighteenth-century English novels that suggested the genre's importance to understanding the rise of the middle class (especially the rise of economic liberalism, or liberal individualism) and the spread of Protestant values. He suggested that the novel didn't simply reflect these changes but actually participated in them, by helping to form new kinds of reading audiences. He draws attention to Defoe's significant contribution in creating memorable protagonists — Robinson Crusoe, Moll Flanders, etc. — who are believable individuals. The novel's association with individualism is present even in the tendency of early novels to take on the names of their protagonists. (Think not just of Crusoe or Moll Flanders but of Brown's Arthur Mervyn, which we read next.) Watt thinks individualism's emergence has something to do with Protestantism, especially its enshrinement of individual dignity and labor, but also recognizes the appeal to readers of imagining a character's entire life, of identifying vicariously with a central character who is at once heroic and quite ordinary. We don't just want to eavesdrop on characters, he's suggesting. We might want to be like them, or perhaps even to be them, which is perhaps precisely what someone like Defoe wants from us.
Watt's account has been subject, over half a century, to criticism on several fronts, but it remains enormously influential, even as authors seek to replace it with new histories that recognize transnational influences or the centrality of early female novelists. I'd like to take up some of these issues again on Thursday, when we'll also return to the question of H.F.'s medical opinions. See you then.